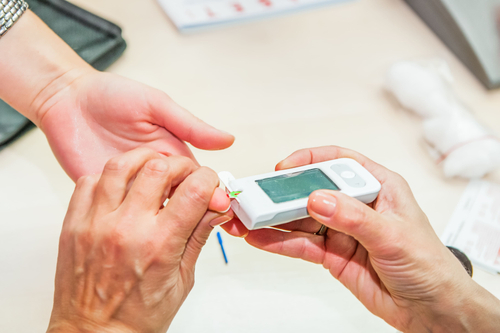 Diabetes Education – The Sweet Spot
At Haag Pharmacy we are committed to making sure you have the tools and resources to help manage your diabetes. Our once a month FREE diabetes education class, The Sweet Spot, will help ensure you stay up to date on all you need to know to help manage and control your diabetes. With a different topic every month, you will constantly be learning new things to help keep your daily routine in check and on your way to health and wellness.
Our diabetes class is not just for diabetics. Many times a friend or loved one has diabetes and you may want to learn more in how you can assist them in taking care of their health.
Join us every 4th Tuesday of the month at 6 pm at Haag Pharmacy for our FREE diabetes education class. We look forward to seeing you!
2018 Curriculum Topics & Dates
January 23rd Type 2 Diabetes Medications
February 27th Diabetes Complication
March 27th Sweet Spot Cooking School
April 24th Lowering the Cost of Diabetes
May 23rd Maximizing Your Doctor's Visit
June 26th Losing Weight the Wise Way
July 24th Diabetic Neuropathy
August 28th Prediabetes
September 25th Exercising With Diabetes
October 23rd Family Overview of Diabetes
November 27th 5 Lab Tests You Need to Know
December 18th Traveling with Diabetes – (Note date change due to Holiday)
Diabetic/Therapeutic Footwear
Part of comprehensive diabetic care is taking care of your feet. Often times diabetic patients have decreased circulation and can be prone to potential foot problems that can lead to more serious complications. Our staff at Haag Pharmacy understand this concern and are dedicated to helping ensure you have happy and healthy feet!
We carry a full line of footwear and auxiliary supplies including diabetic socks and hosiery. Our pharmacy is equipped with a spacious private shoe fitting room to allow our staff to be 100% focused on you. Shoe fittings are done by appointment only so we may give your our uninterrupted time and attention.
Many times diabetic footwear and the appropriate insoles are covered by insurance including Medicare Part B. A prescription from your physician is required and certain medical qualifications may apply. Our staff can provide you with this information so you can visit with your physician about getting diabetic footwear at your next doctor's appointment.
Debra Madsen is our certified fitter of therapeutic shoes as well as one of our certified pharmacy technicians. She is here to help you and can answer any of your footwear questions. Call her today to schedule your one-on-one private consultation and shoe fitting at (620) 342-1242 or email at dmadsen@haagpharmacy.com.
Diabetic Supplies
At Haag Pharmacy, your diabetic health and care are very important to us. Part of that care is ensuring you are checking your blood sugars regularly. We carry a full line of diabetes testing monitors and supplies and our trained and educated staff are here to help you decide which meter best fits your personal needs. Knowing how to properly use your meter and supplies is also very important. Our staff is here at anytime to help train you on how and when to test your blood sugars.
Many of these testing supplies are covered by insurance, including Medicare Part B. Visit with us today to see what is covered by your insurance.